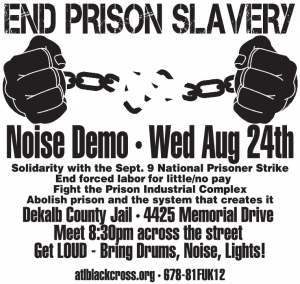 Dekalb County Jail · 4425 Memorial Drive
Meet 8:30pm across the street
Get LOUD – Bring Drums, Noise, Lights!
Prisoners all over are gearing up for a nationwide strike in September. They are putting their lives and freedom on the line to bring an end to prison slavery, inhumane living conditions, and the abusive prison system overall.
Prison officials want to hide this resistance and make prisoners invisible, but we won't abandon those behind bars. Let's show solidarity with prisoners: we stand with them when they resist!
– Solidarity with the Sept. 9 National Prisoner Strike
– End forced labor in for little/no pay
– Fight the Prison Industrial Complex
– Abolish prison and the system that creates it