On September 8th, there will be a film screening of Ghosts of Attica, followed by a discussion about prisoner resistance in history and today.  We will include thoughts from current prisoners on the upcoming national prison strike.
https://www.facebook.com/events/1685933118394885/
On Sept 9th, the strike officially begins.  There will be a solidarity march in Atlanta targeting corporations which profit from the slave labor of prisoners.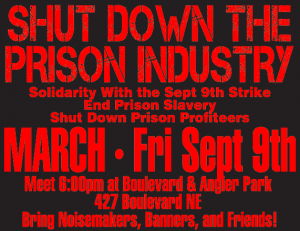 https://www.facebook.com/events/1769506526595233/
On Sept 10th, Atlanta ABC is organizing a caravan to Donaldson Prison in Alabama to show visible support for the striking inmates there.  The demonstration begins at 10am, we will leave Atlanta early Saturday morning.  Please get in touch if you can participate.