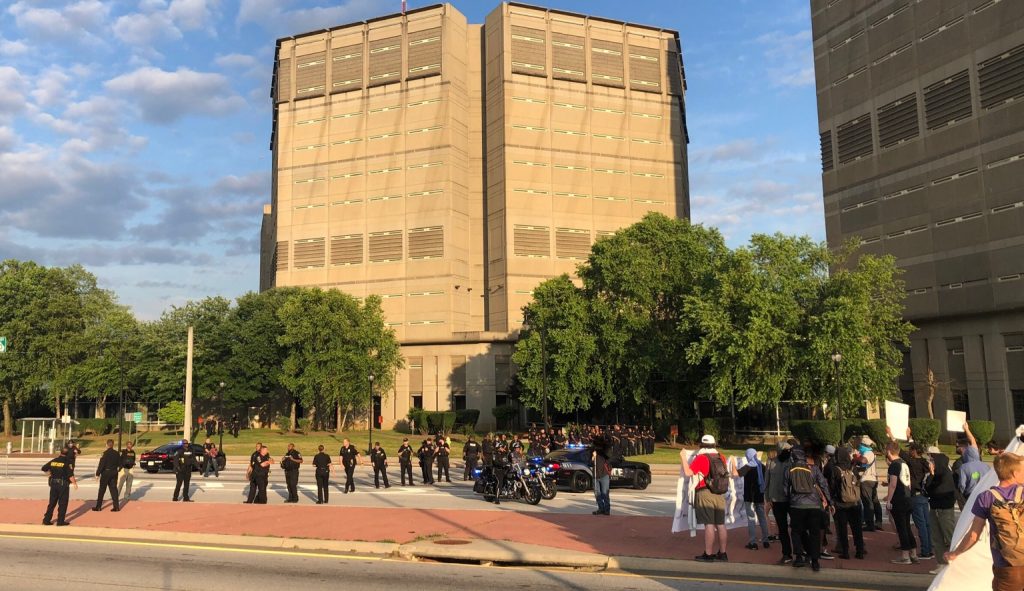 Atlanta Anarchist black cross has been speaking to people outside the DeKalb County Jail and receiving numerous phone calls from inmates and their family members revealing abusive conditions within the jail. Although the phone originally used to accept calls from prisoners was blocked by the jail system, ABC got a new number and has been receiving multiple calls since. They include complaints of inadequate and inedible food, a rampant mold infestation, a standard practice of medical neglect, and violence and retaliation by guards against people who make complaints.
One woman who spoke to ABC on May 17th said she had to call repeatedly to demand that her son receive medical care that he had been requesting; it was one or two months before he received care. She did not want to give her name because she feared reprisals by guards against her son if she speaks out against the abuse. "I wouldn't want anything to happen to him… You got to protect your loved ones who are in there, the guards can do anything at all."
Her fear is not without grounds; guards retaliated violently against the men who sparked protests after photos of them with handmade signs went viral in April are in solitary. their families were not able to hear from them for a month after the photos went viral. when one of them, Darnell Thompson, was able to finally get a postcard out, he reported that his solitary confinement will last until June 7th. Other inmates reported that the three were beat up and had their cell ransacked after the photos went viral.
Another mother told ABC that her son was beaten by guards.
A third mother who spoke to ABC also chose to remain anonymous. She said her son has been told that they are going to stop him receiving his medications for bipolar disorder. She does not know why.
A fourth mother also reported making numerous official complaints against the jail and the mental health staff for refusing to take her son's mental issue seriously.
An inmate named Matthew Burkins called ABC on May 17th. He said that he began having pain in his chest while breathing a few days after he was brought to the jail. He suspected it was due to the mold infestation. He spent four weeks making a medical requests every day or every other day. He experienced delays in being seen and when he did go to the medical floor they just checked his vital signs and made sure they were within normal limits and then decided that he was okay and sent him back to his floor without treatment. Burkins also reported that it was not until six weeks after he arrived at the jail that he began receiving his regular prescribed medication. The jail staff kept saying that they were unable to verify his prescriptions. It was not until he put in a request at the kiosk saying that he was suicidal that he finally began receiving them; he has been doing much better since. Burkins also said the light is broken in his cell and in many others, meaning that he is not able to study and prepare for his upcoming court case. He has filed formal grievances, but he says, "the grievances don't mean nothing, they [guards] can get away with murder and still be working the next day."
Another inmate who called and identified himself just as Victor says his area is on lockdown for 21 hours a day, and he is only out on the floor from 11 am to 2 p.m. Victor also says that the food is inadequate. Breakfast might be oatmeal or grits, and lunch goulash or chicken patties, just a sandwich for dinner with nothing to drink. Victor was also concerned about retaliation for speaking out. He said, "a lot of people come up in here missing, a lot of people come up in here dead. Especially if they don't got no family" outside to advocate for them.
On Wednesday May 15, a spirited demonstration took over Memorial Avenue. The original ABC phone number was announced for protesters who got arrested to call for assistance with bail, and for people already in the Dekalb jail to speak out about conditions. One of the police at the protest made a show of listening to the number, writing it down and then making a phone call. Less than a day later, that number was blocked by the jail so that no one inside could dial out to it.
Shortly after the beginning of the demonstration, heavily armed police made four violent arrests. Protesters were thrown to the ground and charged with disorderly conduct and blocking a street or sidewalk.
During the protest, people incarcerated in the jail were breaking windows and attempting to pass messages through the holes to the crowd below. One person tried to pass out food to show how moldy and inedible it was. Others shouted out of the holes, one saying that a correctional officer named King was choking someone whose hands were cuffed behind his back. Others put up signs in the windows for the protesters to read, one said I love U.
The next night, May 16, there was another loud demonstration. Protesters banged on drums outside the jail, while inmates banged on the windows to the beat. Police outnumbered protesters by a factor of about two. The sidewalks were lined with barricades. A new phone number not yet blocked by the jail was written in chalk on the sidewalk so that prisoners on that side of the jail would be able to see it–several who called had seen it that way. The number has also been circulating in the jail by word of mouth.
Protesters have decided to return each day with a table and literature to speak to people coming and going from the jail.