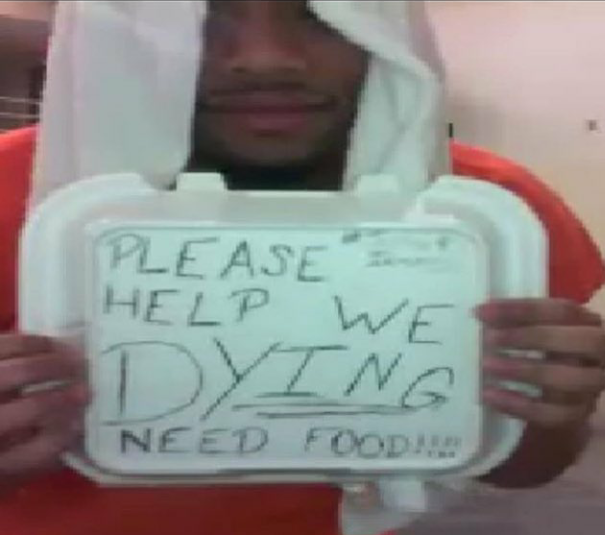 Atlanta ABC and Incarcerated Workers Organizing Committee have been collecting reports of abuses within the DeKalb Jail. One incarcerated man, HL, called a number that had been chalked on the sidewalk outside the jail on May 15. He wanted to publicize abuses but without his name attached since he is afraid of retaliation by guards. HL said that during the protest on May 15 guards came into the cells with paintball guns and threatened to shoot inmates for banging on the windows. During that protest, people incarcerated in the jail put signs up in the windows for the public to read. Some smashed holes in the windows and shouted to the protesters or attempted to pass messages and examples of the rotting food through. Another man who called ABC on May 21 says the windows have since been blocked by some kind of film, a sticky paper or plastic. Protesters tabling below confirm that the windows are opaque in a section of the jail facing the sidewalk. This will prevent imprisoned people from sending messages using signs or seeing the ABC number. The United Nations has a "Standard Minimum Rules for the Treatment of Prisoners" signed by the US that requires windows to allow in fresh air, and keeping prisoners in the dark is also prohibited. ABC also received a report on May 17 that the lights in many cells are broken.
HL also reports that the jail is "nasty, there is mold in the shower. They feed us on brown trays they've had for probably 20 years. The trays themselves are moldy and smell bad." The trays have holes in them that water seeps into when they get washed, so mold grows on the inside.
Sheriff Man, the administrator in charge of the jail, has said protesters are being unproductive because he says they do not file formal complaints. But reports from those who have tried to use the complaint system show it to be a sham. HL says he has complained via the kiosk and filed a formal grievance. No complaint number is given when a grievance is filed. It is supposed to take 14 days but actually takes 60 days to get a response. When a response is finally given, you are required to accept their answer no matter what and cannot complain again. There is a note that the issue is going to be addressed but no one ever actually follows up, and the issue is never addressed.
HL says the toilet in the cell works, but they lock the door to the cell during the day and the toilet in the commons area doesn't work and overflows with sewage. He has digestive health issues and needs to use the toilet frequently and the broken toilet gets in the way of this and creates an unhealthy condition in the jail.
Protesters have been setting up tables outside of the jail and speaking to people coming out since mid-April. Last week they spoke to a Muslim woman who had been arrested for a traffic ticket a few weeks before and held overnight. Her headscarf was immediately confiscated when she arrived and was never returned. She also was served nothing but a pork sandwich which she could not eat, so she did not eat for her whole overnight stay before being bailed out.
Also on May 21, ABC got a call from a Muslim man in DeKalb jail, KR. he reports that according to regulations Muslims are supposed to receive meals before sunrise and after sunset during the month of Ramadan, but they have not been getting their trays until after sunrise. This means they're not able to eat before the day. KR says Muslims do not receive evening trays until 10 p.m. or later. This means they get one meal a day. The meal is supposed to be larger for Muslims during Ramadan, who are only eating before sunrise and after sunset, but they are not. It is the same meager tray that the other prisoners get for each meal, and previous reports have indicated that these trays are not enough food for the day even when they receive three a day.
KR also says that about a week ago, there were signs up in the common area saying not to drink the water or shower in it, and it was coming out of the faucets brown. But there were no signs in the cells themselves, so he woke up in his cell and did not see the signs before he made soup with some from the cell faucet. He says these signs were up once about a week ago and twice the week before that. Water was provided in orange coolers in the common areas.
Another man wrote in a post card from the jail, "The officers don't respond to the call buttons and sometimes treat us inhumanely". He mentioned mold, poor food, and unfair disciplinary procedures as well. "Just because we are inmates and prisoners our lives matter too!! It's so much goes on in between these walls it's not being brought to the light!! I'm praying and hoping I can change that!!"